Back to the list of projects
TOPAZE 2.0
Project sponsor
location
LA BERNERIE EN RETZ – 14 homes for the initial pilot project
Domaines d'application
Self-consumption
Solar power
Battery storage
Autoconsommation & bâtiments intelligents
Flexibilité & réseaux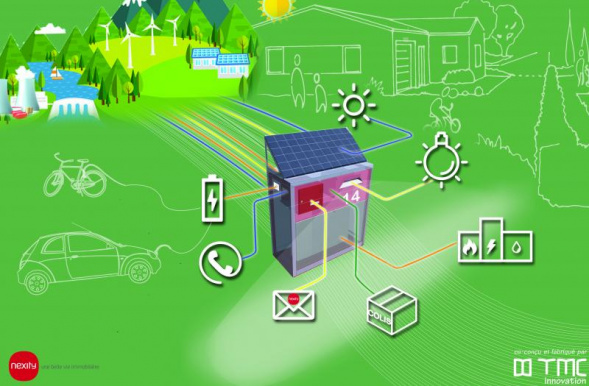 SMILE's involvement in this project
Tangible help with funding
The best possible exposure
Active contribution in the implementation of smart grid projects
Actions to increase the visibility of your project
TOPAZE 2.0 is a Hybrid and Autonomous Street Furniture lighting system developed by the Nantes agency of Nexity Foncier Conseil. It's the first modern and innovative street furniture in France, and possible in Europe, intended to provide lighting in residential areas.

TOPAZE 2.0 enables the production of Renewable Energy on a "private" network, that of a public lighting system which has several production and consumption points with just one point of transfer towards the public distribution network.

It is a new generation form of technical illuminating street furniture, equipped with a solar panel, incorporating the safety systems for fluid units (low-voltage, gas, water).  Thanks to its anticipated movement detection system, the lighting duration is optimised while providing permanent low wattage lighting.

The system will be installed in private residential housing estates, organised in partnership with the co-ownership associations.
 
Valeur ajoutée du projet : 
TOPAZE incorporates battery powered street lighting recharged by solar energy in individual self-consumption.
It allows for the addition of the following functions:  : 
- An electric vehicle recharging plug module (private, connected to domestic electricity supply)
- A smart letter box
- A smart bell doorbell 
- A package deposit box
Les enjeux :
The use of Renewable Energies (initially solar power and ultimately hydraulic) in property planning operations with the intention of powering public lighting networks, which represent 30% of the energy bills of local authorities. 
Organisation of an individual self-consumption operation (co-owners association) which is both replicable and adapted to the public lighting systems, resulting in a reduction of shared maintenance fees. 
Reduction of the carbon footprint of infrastructures and processes throughout their life cycles 
Launch date :  2019
Partners