Le Nov 26 2020
SET UP Final event : sign up !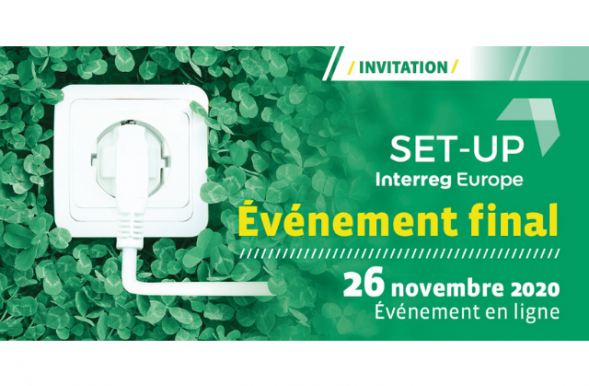 SET-UP PROJECT FINAL EVENT
   
"Accelerating the smart grid transition in Europe: a blueprint for regional action"
SET-UP partners are pleased to invite you the project final conference to discuss the role of public policies in the deployment of smart grids at regional level. Join us on the 26th November to learn from concrete examples of public support and ambitious smart grid projects.
Programme :
(!) This event has two sessions. Be sure to remember to sign up for both.
High-level conference (10AM-12.30PM CET)
10h - 10h05 : Introductions and welcome – Sara Minisini, BDI
10h05 - 10h15 : Project presentation – Sara Minisini, BDI
10h15 - 10h25 : How can policies support smart grids? Lessons from SET-UP – Olly Frankland, Regen
10h25 - 11h50 : Regions in action: experience and resultt
10h25 - 10h50 :

Public support to business: when financing is not enough (Leicester – UK, Hungary) – Michael Richardson, Leicester City Council (UK) and Zoltán Baros, Ministry of Innovation and Technology (HU)

10h50 - 11h15 :

Public support to emerging models: testing new approaches at regional scale (Brittany – FR, Andalusia – ES) – Maximilien Le Menn, Regional Council of Brittany (FR) and Sara Robles, Andalusian Energy Agency (ES)
11h15 - 11h25 : Break
11h25 - 11h50 : Public support for the long term: building efficient strategies (Lithuania, Portugal) – Arturas Klementavicius, Kaunas Energy Agency (LT) Claudio Casimiro, Regional Energy and Environnement Agency (PT)
11h50 - 12h20 : What's next at EU level?
11h50 - 12h05 :

State of play and outlook for interregional cooperation – Charo Camacho, Interreg Europe

12h05 - 12h20 :

Smart grids in the new programming period – European Commission, Joint Research Centre
12h20 - 12h30 : Conclusions – Alain Terpant, BDI
Register here to the morning session
Thematic sessions (2-3.30PM CET)

14h - 14h10 : Introductions and welcome – Olly Frankland, Regen
14h10 - 14h40 : Collective self-consumption – a smart and local energy solution
Current EU market uptake and role in smart grids – Olly Frankland, Regen
Case study from Brittany (FR) – Simon Ducasse, Atlansun and Guillaume Guézélou, Regional Council of Brittany
14h40 - 15h20 : Energy storage - an enabler for smart grids
Current EU market uptake and role in smart grids – Olly Frankland, Regen
Case studies from Andalusia (ES) and Algarve (PT) – Joaquin Villar, Andalusian Energy Agency and Hugo Rodrigues, Regional Energy and Environnement Agency
15h20 - 15h30 : Conclusions
Register here to the afternoon session
Contact
Sara Minisini : s.minisini@bdi.fr