Back to the list of projects
[EN] SYMBIOSE
Project sponsor

location
Pilot site in the northern part of Nantes
Launch date
Fields of application
Smart building
Thermal Smart grid
Management of Renewable Energies
Flexibility, active control    
Social acceptance
Efficacité énergétique
SMILE's involvement in this project
Strong support for getting your project off the ground
Tangible help with funding
Actions to increase the visibility of your project
This project aims to use the solar potential of rooftops by installing bioclimatic greenhouses capable of capturing energy, pre-heating water, providing new spaces for inhabitants; and to interact with the power network to anticipate variations in consumption and production.
Symbiose is equipped with a prediction tool providing information on power production at all times (around 48h in advance) on the one hand and on power requirements on the other hand. The prediction tool is used to continuously calculate the right level of compromise between the inside temperature which must be kept at acceptable levels, and the retrieval of the calories used to pre-heat domestic hot water. Depending on the signals sent to the command system, the heat pump is activated when the forecast indicates a surplus of calories; however it is put on hold if the temperature should be maintained within the greenhouse; and the roof ventilations are used to evacuate any excess and avoid overheating.
SYMBIOSE greenhouses on buildings connected to the urban heat network (projected deployment of 12 buildings by Nantes Métropole Habitat) will produce heat to intermittently reduce consumption on the network's sub-station level. The SYMBIOSE greenhouse control system could contribute to improving the balance between production and consumption through its predictive capacities. An initial diagnostic of the building will be carried out using the prediction tool. The control system will be capable of predicting, at any time, the quantity of heat to be produced over the coming hours. These two elements which are essential for managing the production-consumption balance can be transmitted to the network administrator to enable them to adjust the boiler room load schedule. The control system could use the thermal inertia of the heat buffer of each building to delay certain calls for power thus avoiding peaks in demand. (This principle can also be applied to electric water heaters).
Added value of the project: 
Project transposable to other buildings connected to the heat network
The use of a forecasting tool facilitating good management of power consumption and production
A system which produces energy sustainably while enhancing buildings from an architectural point of view by creating new uses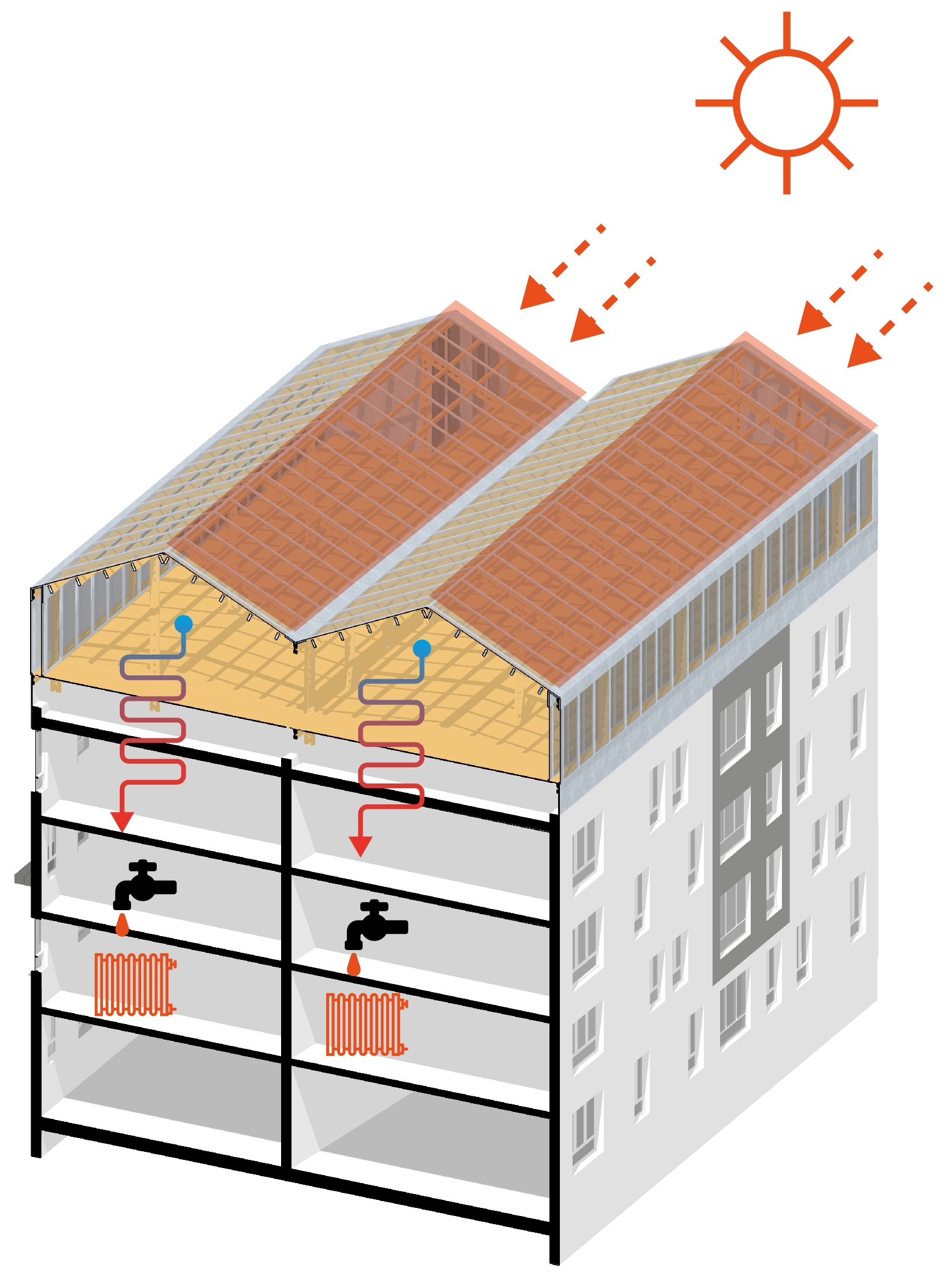 Partners