Back to the list of projects
Laval Demonstration Platform for the Energy Transition made in Pays de la Loire
location
6 Rue Léonard de Vinci, 53810 Changé.
Launch date
01/06/2021
Domaines d'application
Smart building, smart factory
Smart neighborhoods, smart territories, smart cities
Autoconsommation & bâtiments intelligents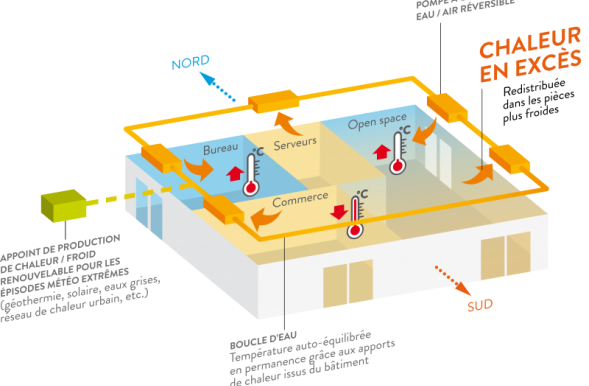 The aim of this project is to deploy a circular economy system and decentralised solutions for heat recovery, on the Laval Mayenne Technopole building, using a closed-circuit water loop equipped with 52 individual mini heat pumps (1200W to 2000W each).
This water loop is composed of a two-tube circuit filled with temperature-regulated water which flows through the building spreading heat or cold depending on the needs of each room, via individual mini heat pumps.
The second phase involves equipping the installations with smart sensors, a system for air renewal and filtration and an intuitive supervision pilot.
Added value of the project
Optimisation of micro-sources of waste heat within the building (south facing rooms, shared kitchen, IT room…).
Improvement of thermal comfort for the building's residents and visitors.
The building will be used as a benchmark for a thermal study on the installation of water loops in "ecodistricts" and for the use of artificial intelligence.