Back to the list of projects
St Joachim Power Storage
Project sponsor

location
St-Joachim, Chaussée de Bais: 4 municipal buildings
Fields of application
PV self-consumption, storage
Efficacité énergétique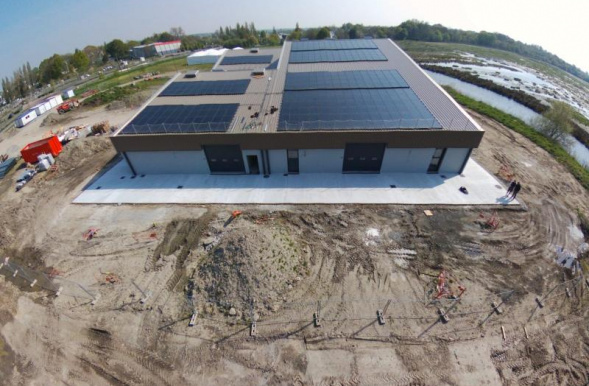 SMILE's involvement in this project
Tangible help with funding
Actions to increase the visibility of your project
Since 2010, Saint-Joachim has been developing an ambitious and voluntarist energy policy. It enables the systematic production of renewable energies on the rooves of all public buildings which are completely covered in solar panels (PV).  
 
For the construction of a parish hall, an aerovoltaic station of over 100kVa is planned for the roof to produce electricity and specially to catch a maximum of heat under the panels. It should be noted that this installation goes hand in hand with the construction of a 8000m2 solar panel covered car park. 
 
The energy produced by the building will cover the electricity requirements of this hall and three other public buildings (a gymnasium, a sports building and a racquetball room), within 200 metres of the main hall.
 
Energy production exceeding demand 
 
The town of Saint-Joachim is not in a position to rationally self-consume the 140 000kWh produced by the aerovoltaic station on the parish hall whenever it wants. To solve this problem, the town is currently testing a dual solution:
A self-consumption solution on one low-voltage position, managed by the town for several public buildings.  
A storage solution which has the advantage of saving power produced in the summer period for use in the winter.  
 
A solution for storing excess of energy  
 
The company SYLFEN is providing a hybrid storage solution, "Smart Energy Hub" which pairs Lithium-Ion batteries with hydrogen storage. For the town, this solution makes it possible to adapt the product to the volume of power produced and its self-consumption.
 
This solution is still in the test phase, but is designed to evolve. It opens up the possibility of optimal use of the 8 PV stations currently in production which are bound by buy-back contract until 2030 (set up in 2010).  
 
After the 20 years of operation, the photovoltaic carports (with their 1.3MWh of production) will belong to the town. By adapting the storage, the energy could then be redistributed across the territory. 
 
Initially, the Smart Energy Hub will involve a hydrogen storage module and 50kWh of Li-ion batteries so as to only reinject 21MWh into the network per year instead of 118MWh. 
 
Self-consumption will progress from 40% to over 80% of locally produced, renewable and decarbonised energy.   
 
The stakes: 
Store non self-consumed energy to be used when needed.
Increase self-consumption of the renewable energy produced by the aerovoltaic power station.
 
The goals: 
Validate the power yield at around 60% of the storage solution (electric and thermal).
Validate self-production at 38% (electricity + heat).
Reduce the town's annual electricity costs by 40%.
Reduce the carbon footprint by 23%.
Make power flows visible to the users.
Enable the commercialisation of the CEA solution: rSOC tech by 2021/2022. 
 
Added value of the project: 
Storage of power in the summer for use in the winter.
An innovative storage solution for optimising self-consumption and self-production.
 
Launch date:  2019 - 2020. 
 
Partners